Fair Dates & Opening Hours
AsiaWorld-Expo – Diamonds, Gemstones & Pearls
Hong Kong Convention & Exhibition Centre – Fine Finished Jewellery, Packaging, Tools & Equipment
AsiaWorld-Expo (AWE)
Hong Kong International Airport, Lantau Island, Hong Kong
Hong Kong Convention & Exhibition Centre (HKCEC)
1 Expo Drive, Wanchai, Hong Kong, China
Materials Section I AsiaWorld-Expo
13 – 17 • 9 • 2020
The September Hong Kong Jewellery & Gem Fair is home to Asia's largest gem marketplace, which can be found at AsiaWorld-Expo (AWE). Over 1,700 exhibitors will showcase a wide range of loose gems of diamonds, gemstones and pearls from around the world in this section of the September Fair.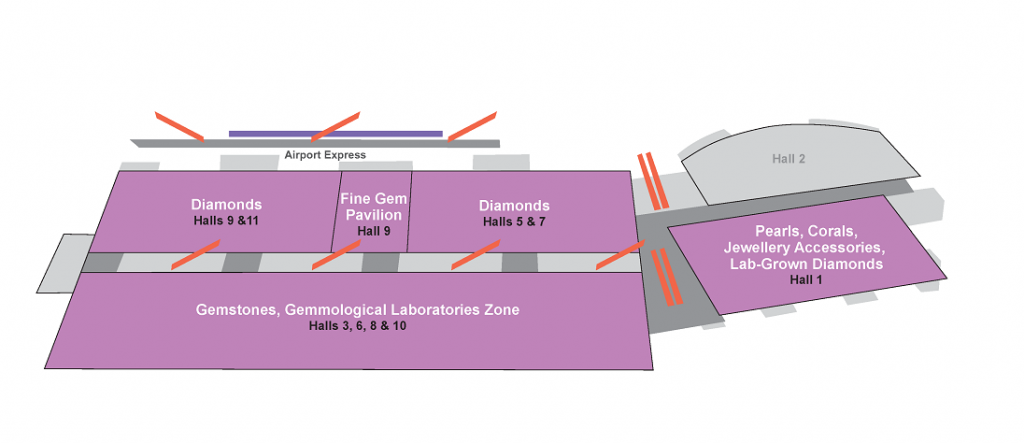 Click HERE to enlarge.
(Last update: 10 March 2020)

Finished Jewellery, Packaging, Tools and Equipment I Hong Kong Convention & Exhibition Centre
15 – 19 • 9 • 2020
The Hong Kong Convention & Exhibition Centre (HKCEC) is dedicated to showcasing finished jewellery products, packaging, tools and equipment. Over 2,000 fine jewellery exhibitors from around the world will occupy the various theme halls in this venue.